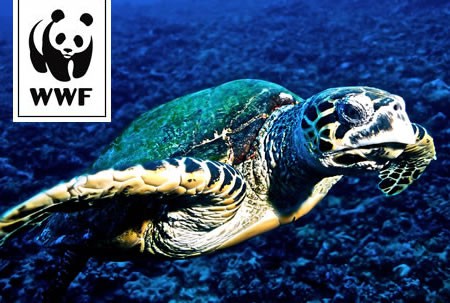 Adopt a Turtle
from £3.00 a month
More Info
Registered Charity Number: 1081247
Adopt a Turtle
(From WWF Adopt an Animal)
Every year over 250,000 marine turtles drown by becoming entangled in fishing lines and nets that choke the world's oceans, but adopting a Hawksbill Turtle or Leatherback Turtle you can help WWF halt the devastation.
The Hawksbill Turtle lives in the waters around Fiji, and you will be adopting one of five females who return each year to nest on Talice beach, on the uninhabited island of Yadua Taba. WWF use painless flipper tags to track and record the turtles' locations. This helps them to find out more about their movement patterns and also enables them to share the knowledge to help their endangered species throughout the world.
The Recipient of the Charity Gift Gets
beautiful cuddly toy of your animal
gift pack including a certificate and photo of your adopted animal, a fact book about your adopted species, bookmarks, stickers and a WWF 'What we do' leaflet.
Wild World magazine delivered 3 times a year plus regular updates on your chosen animal
Perfect as a Last minute gift Even if you order late you can get a certificate to print or email to give on the day!
Delivery Info
By Post :
FREE Delivery to UK address with pack despatched within 3 days. Please allow up to 10 days for delivery. Express Delivery costs £7.50 if you order before 2pm Monday - Thursday.
Last Minute Gift? :
Receive a gift certificate to print or email up to the big day!
About WWF Adoptions
For a small regular monthly fee you can Adopt an Animal with WWF for yourself or a friend which will help to safeguard the future of your selected species and their habitat. Animal adoptions make great charity gifts and are also an excellent way to show your support to the worlds wildlife and help to fund the work WWF does on conservation. You can also support their great work with a WWF Membership or by choosing from one of their selection of charity gifts at the WWF Shop.
Popular Christmas Gift Ideas
Adopt a Snowy Animal | Adopt a Big Cat
WWF Charity Information
WWF are the worlds largest independent environmental organisation. Originating in the UK where they were formed in 1961 they are now active all over the world. As a charity the WWF rely heavily on donations from members and supporters.
WWF Facts
a truly global network who are active in over than 100 countries
a science-based organisation who tackle issues including the survival of species and habitats, climate change, sustainable business and environmental education
over five million supporters worldwide
90 per cent of their income comes from donations from people and the business community
WWF's Mission
WWF are on a mission to stop the degradation of the planet's natural environment. They want to build a future in which we can live in harmony with nature. It's a simple mission statement but difficult to achieve. They aim to use their practical experience and knowledge to find and implement longterm solutions. They have set out some clear pointers to help achieve their goal.
Conserve the world's biological diversity.
Campaign for the use of renewable and sustainable resources.
Reduce pollution and wasteful consumption.
Latest from the Blog
Three Huskies living together in California have started to raise a cat that was rescued as one of their own the owner of the dogs says. The three Siberian Huskies, Miko, Infinity and Lilo have become best of friends with the cat who is named Rosie. Thoa Bui who is the owner of the animals says they do everything together including eating, sleeping and playing.
A big great white shark that was put on display at a Japanese aquarium in a move that was heavily criticised globally on social media died less than three days after the move took place. The Okinawa Churaumi Aquarium stated on its website in red letters that its great white shark exhibit "has been terminated." The Wall Street Journal reported the shark died citing information provided by one of the exhibit keepers.