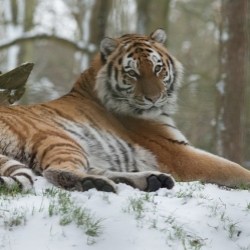 A cruel zookeeper who allegedly used to boil the bones of big cats has been killed by a tiger. The unnamed 50-year-old man was cleaning the tiger's enclosure when he was attacked last month. The man had been left alone inside the enclosure at the Xiongsen Bear and Tiger Mountain Village in the Chinese city of Guilin. The zoo claims to have over 1,100 captive tigers and 600 Asian black bears and at one point in time was the largest breeding facility in China.
Zoo has a bad reputation
The zoo has come in for intense criticism in the media after an investigation in 2016 claimed to have found tigers living in run-down enclosures in an extremely dishevelled state.  According to a report in the Daily Mail, after a tiger dies at the zoo, its body is sent to a factory where Chinese tiger bone wine is made. The drink is extremely sweet and 39 per cent liquor. Many people in China believe that drinking it will improve their sex drive.
Breeding for body parts
Apparently, tigers are boiled and then their bones are steeped in massive vats of rice wine for as long as eight years in order to produce the illicit liquor. There is a ban on breeding tigers for their body parts in China that is routinely ignored. Once the liquor is produced, it is then sold for hundreds of dollars per bottle in posh hotels and restaurants.  A statement released by the city's government said officials are investigating the death of the zoo keeper. This is the second victim in 14 years at the zoo following the death of another member of staff who was feeding the tigers in 2004.
Zoo closed for renovation
Apparently, the victim had been cleaning a tiger cage with a colleague who left momentarily only to return some time later to find the lifeless man. There were no tourists present at the time of the attack because the zoo has been closed as part of renovations. Whilst the zoo has confirmed that the cause of death was an animal attack, it did not specify which species attacked its employee. Amongst its 1,100 tigers are South China tigers, Bengal tigers, white tigers and Siberian tigers.