WWF Registered Charity Number: 1081247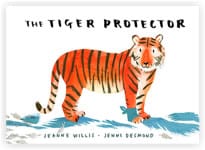 Tiger Protector
WWF Adopt an Animal
from £5.00 a month
Your WWF Tiger Protection Gift pack includes a personalised "The Tiger Protector" book featuring an adult and child of your choosing.
Your gift will help WWF's attempt to double the number of Tigers in the wild by 2022.
> More Info
FREE UK Delivery
Friday 16th December 2016 at noon is the last date for orders to receive the full gift pack in time for Christmas.
Christmas Delivery
Your gift pack will be despatched within 3 days. Please allow up to 10 days for delivery. Express Delivery costs £7.50 if you order before 2pm Monday - Thursday.
Last Minute Gift?
Left it late again? No problem! WWF offer a gift certificate to print or email so you have something to give on the big day. Your standard gift pack will then be received within 10 days of purchase.