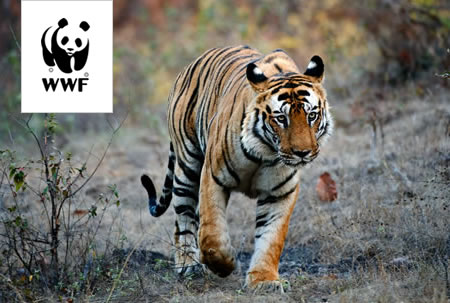 Adopt A Tiger
from £3.00 a month
More Info
Registered Charity Number: 1081247
Adopt A Tiger
(From WWF Adopt an Animal)
With as few as 3,200 Bengal tigers left on the planet, now is a vital time to act in helping save these amazing creatures from extinction. In the last 100 years, Bengal tiger numbers have dropped by a massive 95%, but with your help WWF can help protect their future.
By adopting a Bengal tiger from just £3.00 a month, you can help WWF reduce poaching and the illegal trade of live tigers, strengthen anti poaching around nature reserves, and ensure conservation laws are enforced. With your help, WWF will help stop the Bengal tigers struggle for survival.
The Recipient of the Charity Gift Gets
beautiful cuddly toy of your animal
gift pack including a certificate and photo of your adopted animal, a fact book about your adopted species, bookmarks, stickers and a WWF 'What we do' leaflet.
Wild World magazine delivered 3 times a year plus regular updates on your chosen animal
Perfect as a Last minute gift Even if you order late you can get a certificate to print or email to give on the day!
Delivery Info
By Post :
FREE Delivery to UK address with pack despatched within 3 days. Please allow up to 10 days for delivery. Express Delivery costs £7.50 if you order before 2pm Monday - Thursday.
Last Minute Gift? :
Receive a gift certificate to print or email up to the big day!
About WWF Adoptions
For a small regular monthly fee you can Adopt an Animal with WWF for yourself or a friend which will help to safeguard the future of your selected species and their habitat. Animal adoptions make great charity gifts and are also an excellent way to show your support to the worlds wildlife and help to fund the work WWF does on conservation. You can also support their great work with a WWF Membership or by choosing from one of their selection of charity gifts at the WWF Shop.
WWF Charity Information
WWF are the worlds largest independent environmental organisation. Originating in the UK where they were formed in 1961 they are now active all over the world. As a charity the WWF rely heavily on donations from members and supporters.
WWF Facts
a truly global network who are active in over than 100 countries
a science-based organisation who tackle issues including the survival of species and habitats, climate change, sustainable business and environmental education
over five million supporters worldwide
90 per cent of their income comes from donations from people and the business community
WWF's Mission
WWF are on a mission to stop the degradation of the planet's natural environment. They want to build a future in which we can live in harmony with nature. It's a simple mission statement but difficult to achieve. They aim to use their practical experience and knowledge to find and implement longterm solutions. They have set out some clear pointers to help achieve their goal.
Conserve the world's biological diversity.
Campaign for the use of renewable and sustainable resources.
Reduce pollution and wasteful consumption.
Latest from the Blog
Demand for ivory has produced a drastic reduction in the number of African elephants with poachers hunting more elephants faster than they can reproduce according to a new study. The study also found that poaching deaths have affected over half of all elephant families in the Samburu National Reserve in Kenya.
In 2011 eight per cent of the African elephant population was wiped out, or an estimated 40,000 elephants making it the worst year on record since 1998. In the absence of poaching, the elephant population in Africa would grow by about 4.2 per cent each year.
European Zoo's may be about to experience a renaissance in Rhino reproduction as researchers seek to improve the success rate of these animals mating in captivity according to a new study.
The Black Rhino is endangered because it is illegally hunted for its horn and also has a very low birth rate in captivity the researchers said.
In order to find out why some species of captive rhinos breed very easily whilst others never reproduce, English researchers undertook a detailed study of 39 captive rhinos which constitute roughly 90 per cent of the European rhino population.