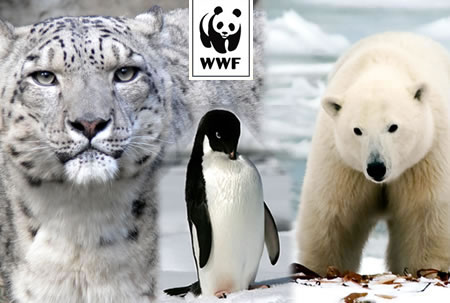 WWF Adopt the Snow Pack
This animal is not currently available for adoption.
Registered Charity Number:
WWF Adopt the Snow Pack
(From WWF Adopt the Snow Pack)
The WWF Adopt the Snow Pack is new for Christmas 2011. For a donation from £10.00 a month you get :
Three cuddly toys and a 2012 Really Wild calendar
My animals and Wild World magazine 3 times a year
Species booklets, certificate, bookmarks and stickers
Perfect for Christmas time, this adoption pack brings together 3 species of animals that just love the snow! Polar bears, Snow leopards and Adélie penguins depend on the cold for their icy habitats to hunt and raise their young. Their environment is at risk due to warming temperatures caused by climate change, decline in their prey species and other threats. A monthly donation from £10.00 can help to secure their future.
The Recipient of the Charity Gift Gets
Latest from the Blog
Everyone needs a friend to lean on when they are having problems. That includes a cheetah cub who received comfort from his BFF which just happens to be a puppy. The 10-week old cheetah cub named Emmet was suffering from pneumonia and needed a friend to help with his recovery. Emmet was born at a conservation centre in Ohio, but not long after his birth contracted pneumonia.
Two lions recently escaped from an enclosure in Leipzig Zoo in Germany. Unfortunately, one of the two lions was shot dead because attempts to use a tranquiliser failed. The two male lions called Motshgetsi and Majo managed to clear their enclosure and leapt over a moat early in the morning before the zoo opened. The two lions were discovered in a terrified state in the undergrowth. Whilst one of the lions was able to be shepherded back to its enclosure, the other lion continued to remain in an agitated state forcing officials to shoot the animal.